Nuclear Medicine

Why MIM?
MIM provides a single platform, vendor-neutral solution for all of your PET and Nuclear Medicine viewing and analysis needs.
MIM specializes in therapy response across multiple time points and modalities, saving significant time per patient, while providing additional valuable information.
MIM also provides unprecedented access to image data. Images can be accessed as a thin-client, with floating licenses, or as a PACS plug-in. Patient data can be stored securely on the Internet and accessed anywhere using a computer or even on an iPad or iPhone.
MIM offers integrated software packages for cardiac and neuroimaging with quantitative analysis for PET and SPECT providing your department with a comprehensive single vendor display and analysis solution.
"MIM has been an integral component to the success of our busy institute.

The speed and workflow enhancements of MIM have dramatically improved our productivity, while MIMpacs and MIMcloud have created an efficient and invaluable link between our imaging centers, the reading physicians, and our referring physicians."
FABIO ALMEIDA, MD
Medical Director
Southwest PET/CT Institute – Arizona Molecular
Imaging Center – Indian Wells PET/CT Center
Tucson Arizona
PET/CT
Speed and Consistency
MIM Encore™ streamlines the image review process with automated reading workflows and personalized image layouts. You can link any number of studies automatically, switch between multiple layouts, change color tables, and create screen captures of measurements – all without having to click a mouse. All your work can be saved for later review with referring physicians or processed by a technologist for the radiologist to review and read.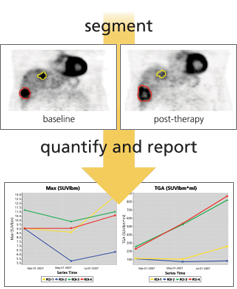 Therapy Response
MIM provides tools to handle multiple time point comparison exams quickly and easily. Any number of exams can be compared at one time. Alignments occur automatically. Measurements can be made quickly using tools such as PET Edge™ (for automatic tumor volume and SUV measurements) and the 2D measure tool (for RECIST long and short axis measurements).
Findings Tracker
With the Findings tracker, volumes of interest (VOIs), ruler measurements, and annotations can be quickly recorded and reviewed for a single exam or multiple exams over time. Measurements are bookmarked as you make them. At any time, you can simply click on a measurement in the list to go to its location in the image for fast review and reporting. Findings/measurements can also be saved and archived for future comparison with follow-up exams.
Advanced Tumor Statistics
Tumor statistics beyond SUVmax, including SUVpeak, metabolic tumor volume, and total lesion glycolysis are becoming important in determining prognosis or response to therapy. PET Edge allows you to quickly obtain all of these statistics and more, using an innovative gradient- based segmentation that overcomes the limitations of traditional threshold segmentation methods.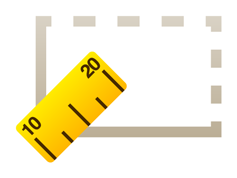 PERCIST/RECIST
MIM provides support for response criteria, including PERCIST and RECIST. PET tumors can be segmented quickly providing SUVpeak and total lesion glycolysis statistics. The 2D measure tool allows you to make long and short axis measurements for RECIST. Results can be graphed or viewed in a table to evaluate response or incorporated into reports.
PET/MRI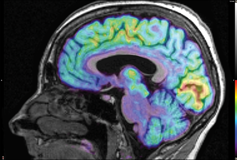 Building upon MIM's industry-leading PET/CT tools, MIM has developed a suite of tools for PET/MR analysis and review with flexible image display, multi-modality image registration, and segmentation tools for PET and MR.

Multiple MR sequences can be fused simultaneously with the PET study. Additionally, other modalities can be fused, including CT and PET/CT. Advanced segmentation tools are also provided for MR, including Contour CoPilot for deformable contouring.
Nuclear Medicine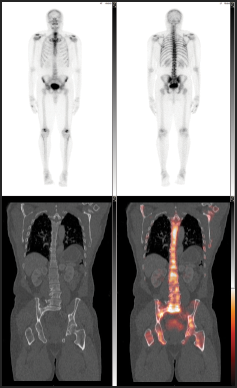 Multi-Modality Workstation
MIM provides a vendor-neutral solution for nuclear medicine processing and image review. As a multi-modality display solution, different modalities, such as CT or X-ray, can be viewed alongside your nuclear medicine images without having to go to a separate workstation.
SPECT and SPECT/CT
MIM provides access to the same industry-leading tools for SPECT and SPECT/CT as with PET/CT. The extensive suite includes customizable image display, workflows to automate processing, and serial exam review.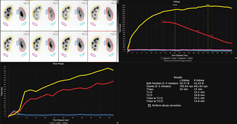 Nuclear Medicine Processing
MIM provides a single vendor solution for nuclear medicine processing including Gastric Emptying, Gallbladder EF, Renal MAG3, Renal DMSA, Lung Quantification, and MUGA exams. Using saved sessions, data processed by the technologist can be reviewed by the physician with a single click. When you edit the saved ROIs, the graphs and tables will update automatically, allowing you to quickly make corrections without sending the data back to the technologist for reprocessing.
Tools for Y90 planning
Timesaving segmentation tools, such as Contour CoPilot™, are provided for tumors and organs such as the liver and lungs. Multiple simultaneous fusions can also be made between the various images used for Y90 planning, allowing for better comparison of the data provided.
Cardiac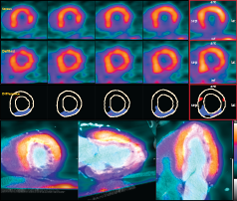 MIMcardiac® is a quantitative analysis solution for both PET and SPECT. The software also provides multi-modality image registration for anatomical correlation with CCTA and MR and for improved comparisons of stress and rest images.
Robust Segmentation
Atlas-based left ventricular segmentation provides robust EF calculation that can help overcome many limitations of traditional segmentation methods. The patient's heart is fit to a standard template using deformable image registration and the atlas contours are transferred back to segment the patient's left ventricle.
Multi-Modality Fusion
Stress and rest images can be aligned automatically to correct for possible differences in SA orientation to allow corresponding myocardium to be compared directly. Any misalignments of PET/CT and SPECT/CT fusions can also be evaluated and corrected. Additionally, PET and SPECT images can be automatically registered to CCTA and cardiac MR.
Quantitative Analysis
In addition to traditional polar maps, MIMcardiac also highlights differences between a patient's own stress and rest perfusion images using deformable image registration. Perfusion differences are presented as a color- coded display on the patient's image. Differences can also be highlighted between perfusion and metabolism exams for viability assessment.
Neuro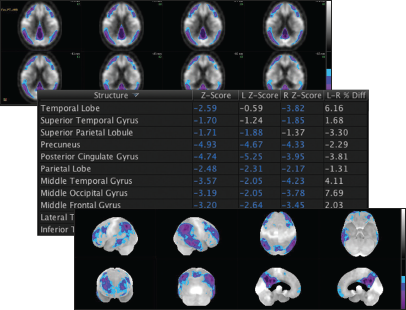 MIM has addressed the need for objective information that can aid and complement visual interpretation with MIMneuro®. Utilizing a robust landmark-based deformable registration method, BrainAlign™, PET and SPECT images can be compared to groups of normals to detect statistically significant differences.
Multi-Tracer support
Quantitative analysis is provided for both PET and SPECT brain scans, with supplied normal databases for FDG, Amyvid™, and HMPAO.
Quantitative Analysis
Areas of statistically different uptake are highlighted in a table of brain atlas regions and on individual voxels. Abnormal voxels can be shown as a color-coded map on the patient's image or on a display of the cortical activity using Stereotactic Surface Projections (SSP). SUV ratios can also be calculated using auto-generated VOIs from the supplied brain atlases.
Tracking Changes
Differences can be highlighted between serial PET or SPECT exams, and between baseline and activation SPECT exams. Utilizing an automated workflow, images are aligned automatically, contrast is auto-normalized (to make the normal areas appear the same, visually), and statistically significant differences are identified using cluster analysis. Differences can also be fused to anatomical images to aid in localization.
Remote Access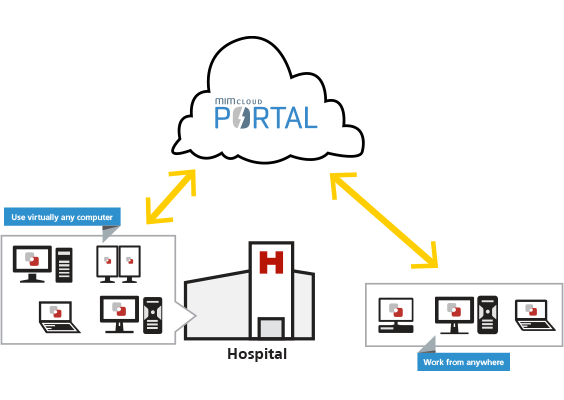 With MIM's thin client licensing solution, MIMcloud Portal™, you can access images from anywhere in the world – and fast. You can also access patient's images and reports using MIMcloud's web-launched viewer. Or you can download the images directly from MIMcloud onto your iPad or iPhone for viewing with Mobile MIM™, the first diagnostic medical imaging app.
Off-site storage and backup of data is also available through MIMcloud™, a secure and economical Internet-based medical imaging service. MIMcloud integrates seamlessly into MIM installations as a data source and introduces a host of new collaborative opportunities. All image data is fully encrypted to support HIPAA compliance policies.
Referring Review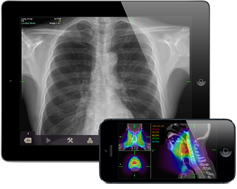 Referring clinicians are demanding greater access to images and results. MIM provides several solutions for referring physician review including web-based access using MIMviewer or downloading the images directly from MIMcloud onto an iPad or iPhone for viewing with Mobile MIM, the first diagnostic medical imaging app.
No longer is there a need to wait for CDs with the patient's images to arrive. Both images and reports are easily accessible providing referring physicians with the quick availability they desire.
Storage Server
The MIM Storage Server is a software-based solution that provides convenient short-term or long-term storage. Since the MIM Storage Server is a software solution, you can customize your system with as many mirrored server and drive backups as desired. And you can easily expand your capacity with off-the-shelf hardware as your storage and archive needs grow.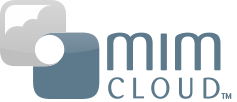 Data Management
The MIM Storage Server provides tools such as automatic querying for images, automatic syncing to MIMcloud, and compressed data transfer to ensure fast access to the data you need.
The MIM Storage Server also allows you to configure statuses for tracking your series, integrates with LDAP or Active Directory, provides central MIM user and user groups, and allows per-user configurations to migrate to remote workstations.

The Assistant™
Included with the Storage Server is The Assistant. Rules can be created for The Assistant which allow for automated data management. Examples include sending, archiving, deleting, and retrieving data – including pulling prior exams.
RISLinQ™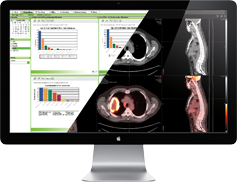 The partnership between MIM® and RISLinQ combines the best of radiology and therapy response software with the industry's leading radiology practice management solution. With RISLinQ's integrated software, users are able to access their patient's worklists, orders, reports, etc. In addition, clicking on a single MIM button will directly access the patient's DICOM images, using either the MIMcloud™ based viewer or the full MIM software suite.
This unique software integration provides imaging center staff, physicians, referring physicians, patients, and records personnel unprecedented access to medical records and images.