Press Release - MIMneuro
MIMneuro to add Quantitative Analysis of Amyloid PET Images
Cleveland, Ohio – June 6, 2012 – MIM Software Inc. is currently preparing MIMneuro® version 5.5.0 for release in June.
MIMneuro
is vendor-neutral software indicated for quantitative and statistical analysis to aid in the interpretation of PET and SPECT brain images. This new version will include two enhancements to make it particularly well-suited for quantitative analysis of amyloid PET images.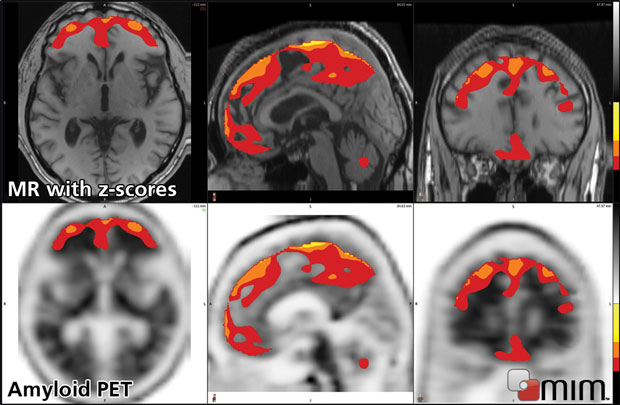 The BrainAlign™ deformable registration algorithm now includes the ability to deformably register to multiple templates simultaneously. With this landmark-based deformable registration approach, local differences in anatomy are resolved more accurately than with affine registration. The variability in uptake patterns with targeted tracers such as amyloid confounds single template registration approaches. By simultaneously using multiple templates, the BrainAlign algorithm robustly registers these images.
Additionally, MIM Software™ has worked with experts in the field to define and release its third anatomical brain atlas. This probabilistic amyloid atlas is a tool specifically tuned for performing quantitative regional analysis on amyloid PET images.
MIMneuro combines these new features with existing tools – including voxel-based analysis, region-based analysis, SUVR computation, cluster analysis, and surface projection analysis – into the most comprehensive quantitative functional neuroimaging software on the market.
MIM Software Inc. is exhibiting at SNM 2012 in Booth #231.
For more information, e-mail info@mimsoftware.com.
Or contact Allison Mitchell, Clinical Marketing.